SCAW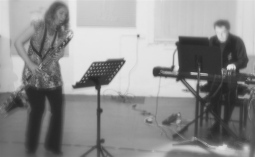 Sarah Watts - Bass Clarinet Antony Clare - Piano
NEW CD - SCAWFELL is now released on the clarinet classics label. Featuring works by composers including Antony Clare, Joe Cutler, Wolfgang Gabriel, Arvo Part and Paul Termos.

SCAW are a Nottingham based bass clarinet and piano duo specializing in contemporary music. Sarah Watts (bass clarinet) and Antony Clare (piano) founded the duo in 2003 and have since performed around the UK and at the World Bass Clarinet Convention in Holland. They specialize in contemporary bass clarinet and piano repertoire and have given many World and UK premieres. SCAW have had many works written for them and are keen to encourage new works to be written for this exciting combination.
SCAW have a very versatile and varied repertoire that in addition to bass clarinet and piano repertoire includes music for bass clarinet and harpsichord and also pieces that use electronics.
SCAW are very keen to perform in as wide a range of Venues as possible and for venues that don't have a piano, SCAW have developed programmes of bass clarinet + keyboard and electronics. SCAW have their own keyboard and PA system.
SCAW are also committed to including educational projects within their work and are happy to include masterclasses, composition workshops and school concerts in addition to performing recitals.
SCAW also have programmes suitable for functions and weddings. Please contact us for further details.
Programme Sample:
Evening recital:
Chiel Meijering He was a Great Man and he Loved Base-ball (1990)
for bass clarinet, harpsichord and pre-recorded soundtracks
Dai Fujikura Dancing Ripples (2002)
for bass clarinet and piano
Graham Fitkin Those Sweet Sweet Melodies (1986)
for bass clarinet and piano
Sungji Hong Formation of the Black Arrow (2005)
for bass clarinet and CD
Antony Clare Scawfell (2006)
for amplified bass clarinet and piano
- INTERVAL Ė
Chiel Meijering You Canít Keep a Good Man Down (1991)
for live bass clarinet and pre-recorded bass clarinets
Sir Peter Maxwell Davies A fairwell to Stromness (1980)
for solo bass clarinet
Theo Loevendie Music (1971)
for bass clarinet and piano
Ton Bruynèl Looking Ears (1972)
for bass clarinet, grand piano and soundtracks
Joe Cutler Urban Myths (1999)
for bass clarinet and piano
For more information or to book SCAW, please email: sarahkwatts@yahoo.com or fill in the Contact Me form.