No. 23 Inverarish Terrace, Isle of Raasay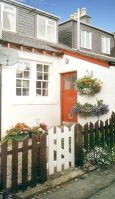 Raasay is a small, tranquil island close to the Isle of Skye in the Inner Hebrides. The journey to Raasay is by a 15 minute ferry journey from Sconser on Skye and once on the island there are spectacular views over towards the Cullins on Skye.
Raasay is around 14 miles long and 4 miles wide and there are many spectalular walks on the island including Dun Caan whose flat topped peak affords views that have to seen to be believed. Raasay is a must for any nature lover and has an abundancy of plants and animals from rare orchids to golden eagles. Red deer, otters, basking shark, whales and dolphins can also be seen and if you are very lucky you might just spot the famous Raasay Vole which is unique to the island.


There are many other sights to see including historic monuments and the famous Calum's road which runs from Brochel to Arnish. Calum Macloed built this road himself with the aid of only a pick, shovel and a wheelbarrow after the local council refused to build it - it took him 10 years!
No. 23 Inverarish Terrace sits in the heart of the tiny village of Inverarish - the main settlement on the island. The Terrace used to house POWs during the first world war, but have long been refurbished into comfortable modern cottages. Inverarish has a well stocked village shop and the hotel about 15 minutes walk away offers food and drink (hours limited in winter months). There is no petrol on Raasay so remember to fill up on Skye! Raasay House is also home to an outdooe centre that will be open again in 2009 after the house has undergone a refurbishment. Or though a tiny and quiet island live music and Ceildhs often happen on Raasay.
For more information on Raasay please contact me or see www.raasay.com
To book No. 23 for a perfect island getaway and to see further pictures of my cottage please go to: http://www.unique-cottages.co.uk/cottages/westcoast/skye/inverarish_cottage