RUMBLE IN THE JUNGLE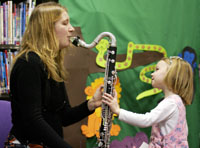 MUSICAL STORY TIME
for 3 – 5 year olds
Through the use of a jungle set, props, her bass clarinet, percussion instruments and jungle background music Nottinghamshire based musician Sarah Watts has created a unique way of narrating Rumble in the Jungle that is both participatory and educational and that helps bring the book to life.
Sessions are aimed at 3-5 year olds and
are 30 minutes in length.
Sessions should each be for 10-15
children. Staff
and parents/guardians
are encouraged to participate.
Past sessions have included a Tour of Libraries
in North Yorkshire and Lowdham Book Festival.
Future sessions include: Lincoln Book Festival - May 2008
Fees: £250 + expenses for 4 sessions per day