FEED THE HOUND
My last performance before lockdown was Mozart's Requiem playing basset horn. Over the past weeks, I've really missed the basset horn and the occasional Requiem. I've been exploring repertoire, but short of newer works.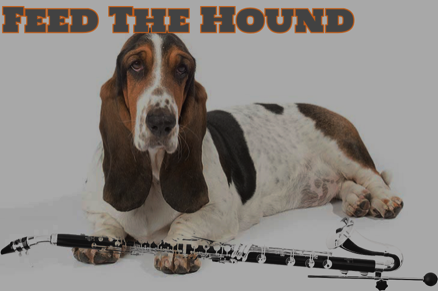 FEED THE BEAST
Feed The Beast was the first FEED THE ... project.
Feed The Beast is a 50 minute live contrabass clarinet performance with visuals by Sheffield based Peter & Paul and recorded voiceover by Jon Iles.
Premiered at Festival of The Mind 2020 in Sheffield, this programme highlights climate change and extinction, and is available for touring for live audeinces or live streams from venues.
Affectionately nicknamed the hound, both of us are hungry, so:
Call for works for solo basset horn and narrator.
· Short works of up to 3 minutes
· Must be about dogs
· Must have narration incorporated into the score. (NB. This is narration and not rhythmically spoken text)
· The duo element must be suitable for narration being pre-recorded and embedded in addition to being possible live. This is due to doing distanced covid recordings.
· All text must be out of copyright or with permission to record and perform.
Deadline: 19th December 2020
Submission is free, but we do ask for a voluntary small donation to the Kit Wilson Trust if you can afford it. Their Xmas donataion for food is:
https://www.justgiving.com/fundraising/kit-wilson-trust-for-animal-welfare10
A selection will be recorded by myself and voiceover narrator Jon Iles in January 2021 for social media release. All releases will be linked to a donation link for the Kit Wilson Trust.
Please email submissions to sarahkwatts@yahoo.com